Laura Ingraham has a whole eleven pages of "
Separated at Birth
" photos at her website...
Being somewhat of a "Separated at Birth" afficionado over the years, I've posted a few of my own and have compiled them into this post.
Enjoy!
A few "Separated at Births" I have noticed over the years:

Nancy Pelosi, and King Crimson:

Al Franken, and The Swamp Thing:

The Alien 'Exeter,' from the 1950s sci-fi classic,"This Island Earth," and Joe Biden.

(I dare you to tell the difference--really)

.

Barack Obama, and the little brother from "Malcom in the Middle"

The Joker, and Algore:

Hillary Clinton, and some other man in a pantsuit.
'19th Hijacker,' Zackarias Moussoui, and "The Brain" from "Pinky & the Brain"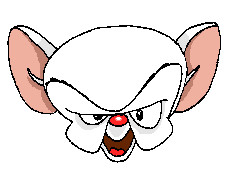 John Kerry, and the balloon heads running out at the opening of the Turin Olympics:


Boy George (Karma Chameleon) and Uncle Fester:

Welll... you be the judge:
With apologies to "The Little Buddy"

George Soros, and Simon Bar Sinister, from the 1960s cartoon show, "Underdog!"


And finally,
John McCain...
And his long-lost cousin...